Are you ready to roll some critical successes and battle with cards? Little Wars in Baton Rouge, Louisiana offers everything you need for roleplaying escapades and wargames. Our shop features a 2,000 square foot showroom, 10 large gaming tables and enough stools for every adventurer.
Join us for regularly scheduled roleplaying games, wargames, Magic games, and gaming and painting workshops, as well as monthly tournaments. In addition to our gaming area, our store offers a vast selection of gaming products. With new releases arriving daily, our shelves are always stocked with the best supplies for competitive prices.
With over 19 years of industry knowledge under our '+5 Intelligence' belts, Little Wars has become Baton Rouge's gaming haven. We are a gaming store run by gamers for gamers. Our staff is always up to date regarding the advances in the industry, and we are excited about the future of gaming.
So, whether you want to spectate a campaign in action, embark on a journey to slay a dragon, or expand your collection of miniatures and games, Little Wars is the right place for you.
Are you into tabletop gaming?
Thought about playing an RPG?
Want to learn a deck-building game?
Are you trying to paint your miniature army to perfection?
Are you a dungeon master looking for a few owlbear miniatures to test your player's skill?
Has your D20 seen better days?
Looking for a new game to impress your friends on game night?
From tabletop games, deck-building games and supplies, books, game mats, dice, paints, modules, miniatures, and basing supplies, we have it all!
We are more than happy to accommodate your needs, we can make special orders and even mail purchases to you.
What's with the name of the shop?
Little Wars is named in honor of Herbert George Wells, the English novelist, essayist and social critic best known for his turn-of-the-century science fiction novels The Time Machine, The Island of Doctor Moreau, The Invisible Man, War of the Worlds, and The First Men in the Moon.
Writing in the glory days of a British empire established as much by muskets as by machines, H.G. Wells intended Little Wars: A Game for Boys, From Twelve Years of Age to One Hundred and Fifty and For That More Intelligent Sort of Girls Who Like Boy's Games and Books to serve as a simple rules system of enjoyable war-gaming for non-professional soldiers. With terrain a mere jumble of books and blocks borrowed from the library and nursery room, he laid out battlefields on lawns and living rooms where middle-aged Napoleons fired breech-loading toy cannons at armies of brightly painted Britains tin soldiers.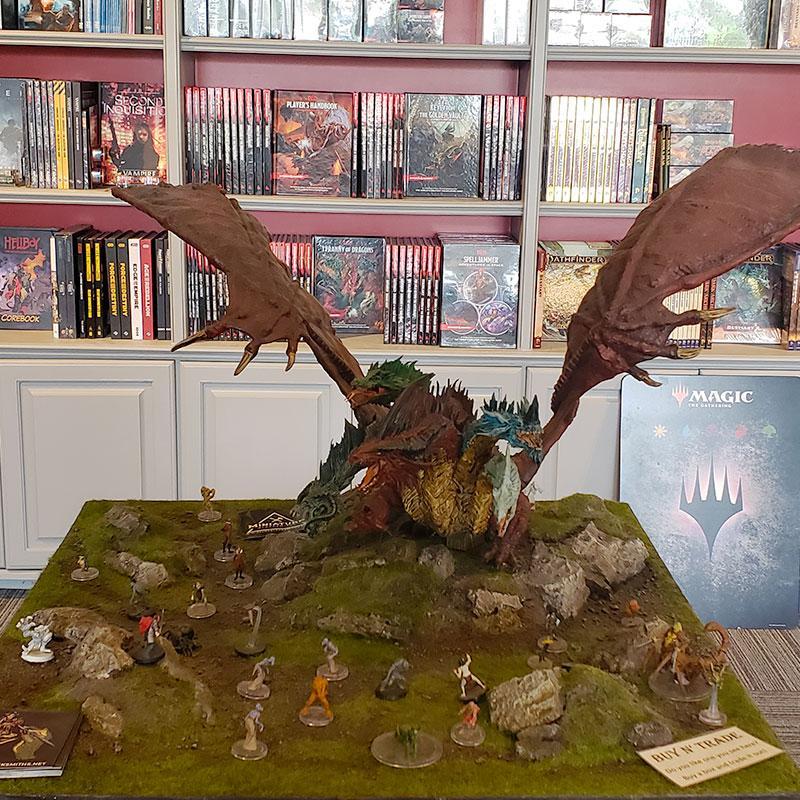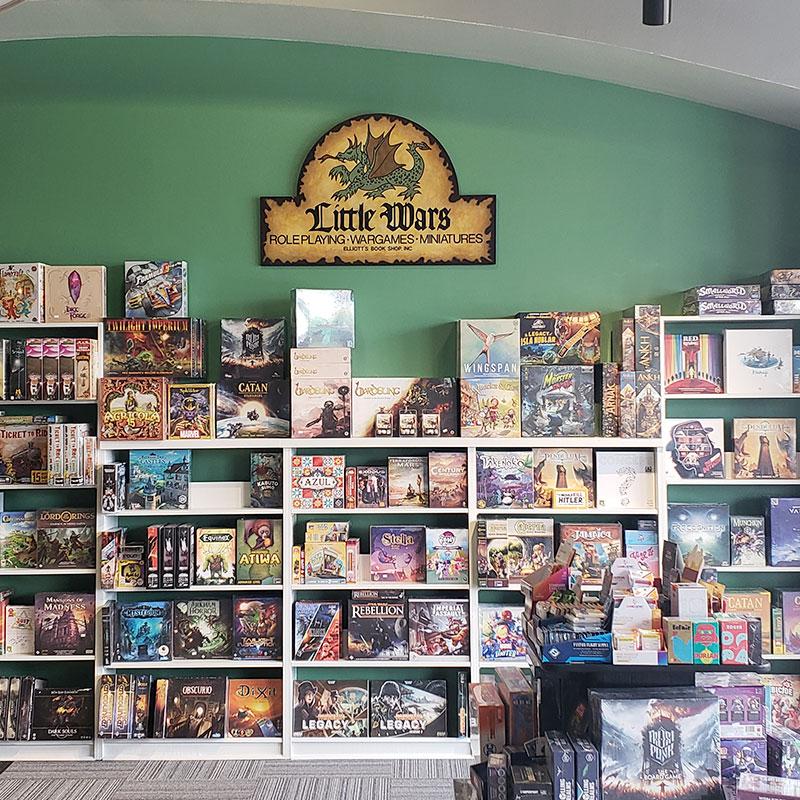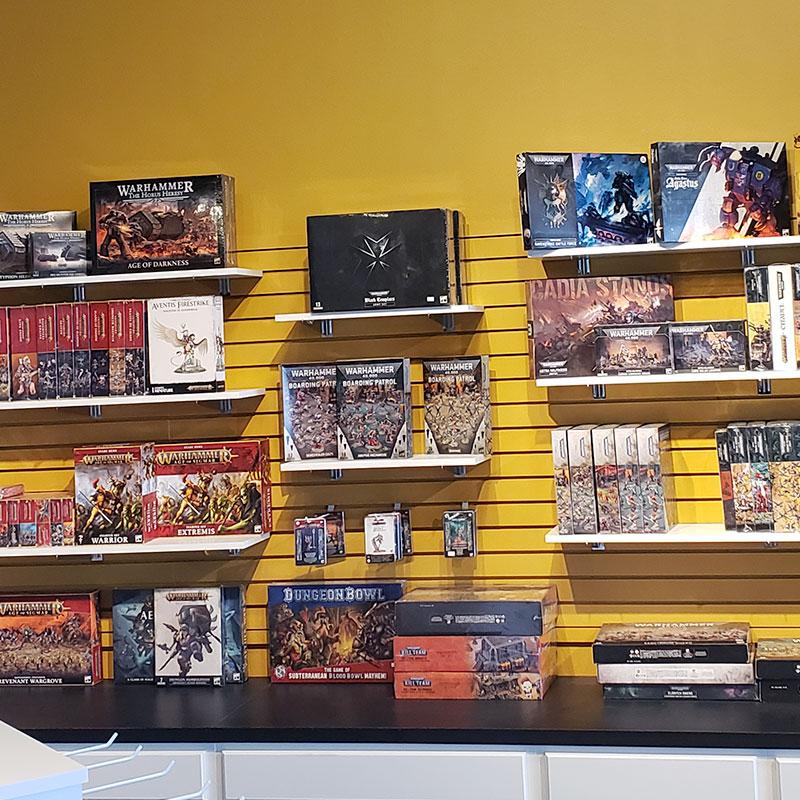 I've been to a few other Nerd Bases, yet this one has been the absolute best. The staff go out of their way to help you feel right where you belong. It's hard for my wife to make friends, however, since we've come here she and I simply can NOT stop wanting to go back. We made quite a few friends, receive endless advice and tips on deck building, miniature painting, and DnD campaigns. Definitely recommend this shop.

Donald Cason


February 22, 2022

I am from out of town and decided to check things out here and was NOT disappointed! What a selection! And what a nice community.

Jaydon Dahlquist


May 19, 2022

This place has been my FLGS (friendly local game shop) since I was but a wee lad, now they have new owners who clearly care about their business and their customers, magnificent hobby shop for all your hobby needs!

Chris LaBauve


August 22, 2021

This place is very unique, contained many different styles in tabletop games. I was surprised to see very detailed miniatures that could be painted by collectors and game enthusiasts. Very novel style atmosphere with small group tables available for casual games with friends.

Heather Frederick


February 22, 2021

This place is amazing! Great Magic The Gathering selection. Awesome TTRPG book selection. Everything you need to start or advance your gaming experience. Staff is very friendly and knowledgeable about everything in the store. Great place to bring kids to get them started in gaming or just to make friends!

Randal Shull


April 26, 2022

These guys have an amazing so much enough table top games and tabletop role playing games as well as accessories dice. This also serves is a place where people can gather with your friends and get their game on always friendly people when I go here and they have a good selection of D indeed Pathfinder and other games as well as Magic the Gathering so whether your looking for settlers of katan or DnD this would be your place to go locally

Mike Spencer


February 22, 2021

Great place to bully the other nerds. Only kidding, not okay to even joke about that. Nice business and they don't get mad at me for spending an hour trying to decide what to get before ultimately chickening out and going home empty handed. So who is the real coward? I am

Zach Byerly


December 22, 2021

Very helpful in explaining things. Helpful finding minis I was looking for and the dice goblin in me loved the selection they have.

James Czwakiel


November 22, 2021

Super cool place to hang out! Owner and his sister are the best

David Musser


April 26, 2022

there isn't a better gaming place in Baton Rouge.. they have everything you need for tabletop, war games, bored games. the owner is amazing, the staff is fun to be around and above all they know what they are doing. I would spend all my free time in the shop if I could.

Jennifer Michelli-Haskell


December 22, 2021

This place has been my FLGS (friendly local game shop) since I was but a wee lad, now they have new owners who clearly care about their business and their customers, magnificent hobby shop for all your hobby needs! The place is always lively, and there are tournaments for all kinds of games!!

Chris LaBauve


April 26, 2022

A great spot to hang out, play tabletop games, and enjoy friends and family. The shop is clean, the employees are friendly, and they offer games you can try for free with plenty of tabletop space.

ryan bombard


August 22, 2021

Top notch staff! They are warm, welcoming and super knowledgeable. I've enjoyed getting back into some of my forgotten hobbies with their assistance. The player community is large and relatively diverse. Go here first!

Rhett C


July 22, 2021

Awesome place to hang out and play virtually any table top game. I played in a magic the gathering prerelease tournament recently. Everyone was amazing and super helpful. Atmosphere is mad laid back! And the employees are super cool and helpful!

Beau Duchesne


February 15, 2022

Comfortable, and fun atmosphere! Excellent selection of board games too. My family plays Magic the Gathering and Pokémon. This is a great place for Magic the Gathering, but not Pokémon, unfortunately. We still really like this place and highly recommend it.

Monica Zeringue


July 22, 2021